Why Should You Attend an Open House at Smith & Solomon?
Image:
Why Should You Attend an Open House at Smith & Solomon?
Every month there is an Open House held at Smith & Solomon campuses.  This is made feasible to give every prospective student an in-depth idea about our CDL programs, our lifetime job placement assistance, and life in the trucking industry after they graduate.  It is encouraged for everyone interested in getting their CDL to attend an Open House to assist in finding out whether this is a career choice fit for them.
Here are some of the things that are covered during an Open House event at Smith & Solomon:
An elaborate explanation of all CDL programs offered and the type of jobs associated with them
Full tour of the campus, as well as hands on demonstration with equipment
Full description of Lifetime Job Placement Assistance available to all alumni of Smith & Solomon
Learn up-to-date statistics about the trucking industry, eg. the need for drivers, opportunities available, salary, projected growth of the industry
Prep for your future, the application and interview process
At Smith & Solomon, the ultimate goal is to have you as prepared as possible for your future career as a commercial truck driver.  If you or someone you know has been contemplating enrolling into a CDL program, an Open House is the event for them to come to.  PLUS, we also serve free refreshments and snacks!  Please follow us on Facebook at https://www.facebook.com/SmithAndSolomonDriverTraining, and/or check out our calendar of events on our site, http://smithsolomon.com/events for all upcoming Open Houses and events.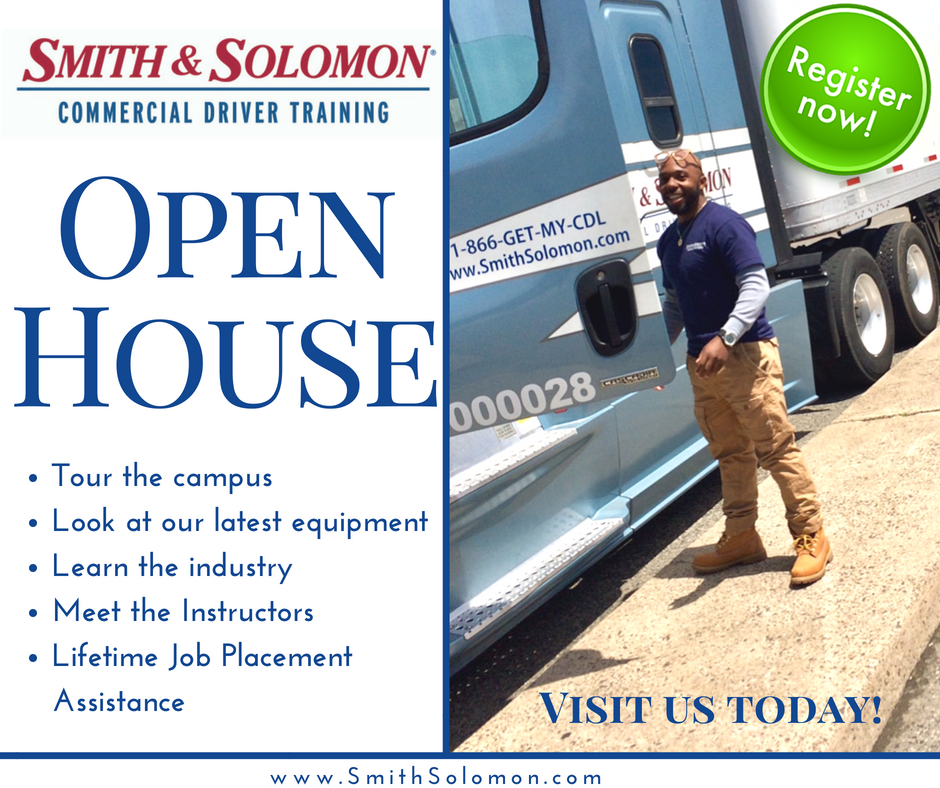 I graduated your school during the summer of 2012 and landed a local driving job immediately and haven't looked back since. My life is back on track after being laid off in early 2012 and I'm on target to make over $75,000 this year. Again, thank you for the new skill. I just learned that truck drivers are more in the demand than ever as rules, laws, and regulations get more challenging, along with the next generation of truck drivers starting to retire creating a big hole in the industry.
Thank you All for Everything